Since it is Spring, I'm not only finishing up my final projects for school, I'm doing a little spring cleaning both at home and on the business side of things. I've used my own name "Sarajane's" for a long time because I do a lot  of different things that don't fit neatly under one title. I make costumes and dolls, stories and graphics and books, websites, dolls, ceramics, textiles, polymer clay…my interests wander around a lot, but they come back together on many points. But I never really liked how it looked on the display cards, and I've tried LOTS of variations. "What to do," I wondered to myself yet again, trying on some new looks for business cards much like a new hair style or bathing suit for the Upcoming Season. What would cover the digital, polymer, textile, ceramic aspects of where my creative stuff connects? It didn't really hit me (sometimes these things take a while) until I was looking for an image to use as a favicon.ico file for my websites, and I looked at the one I use for the header of the Creative Connections blog. Polymer clay, textiles, digital manipulation..duh, Dorothy, there is no place like home. So today I played around a bit and designed a new business card and hang tags for the items I'll be selling. It's fun to try on new looks!
I have been studying programs  like Adobe Photoshop, Illustrator, InDesign and DreamWeaver at Front Range Community College. Plus I've taken courses in ceramics, digital photography and creative writing! It's great to use my hands and my brain both, and to learn new ways of doing art.  Four semesters of soaking it up and learning as much as I can possibly hold, and now its time for a couple of months  putting all that I  have learned in my classes  to good use. I've got a big schedule for my "summer vacation" that includes finishing the photography and editing of my upcoming book  "A Collection Of Polymer Clay Masks". It's under way and going to be in print by October of this year. I have booked the majority of the summer just for this.
I'm also going to be be an instructor at Tougaloo College's Summer Art Colony for a week in July.  The annual Dyeing Days are coming right up the first week of June when we'll be getting Very Colorful, and I'll be making lots of beautiful new things and packaging them up for sale. That's my backwards count-down of what I will be doing for the next few months, along with liberal applications of gardening and the occasional hike into the mountains. It's important to get outside and remember what a beautiful place the foothills of the Rocky Mountains is, particularly in Spring.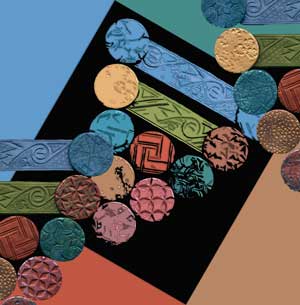 Please follow and like us: