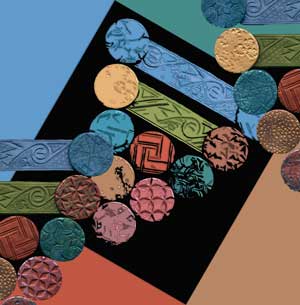 Welcome to the Creative Connections Shop!
I love to make jewelry using components I create, and I sell the components so that others can also. I work with all sorts of things including: Aluminum, Brass, Bronze, Ceramic, Copper, Fibers, Nickle Silver, Paper, Polymer Clay, Tin, and Wood.
I've been dyeing textiles and fibers for decades now, and have a keen appreciation of having onhand JUST the right colors of silk ribbons, feathers, fibers, fabrics and trims to create a great project. Embellished hanging, quilt, costume, sculpture–all sorts of projects need a bit of extra color. My wood charm designs start out as 1/8 thick Baltic Birchwood, and dyes plus  digital technology allows me to bring art into the truly cutting edge world of laser beams. Lightweight, these charms are great in making jewelry, collage or mosaic art, and mobiles.
I use inks on aluminum and tin to build vibrant abstract designs, and after digitizing, cut the metal up to make earrings, pendants, and bracelets.Sometimes I start with other kinds of sheet metal, etch some of the pieces using electricity and develop beautiful patinas using chemicals and heat.
Ceramic and polymer clay have vastly different chemistry and techniques in thir use…but lots of things do cross over. I love to sculpt faces and hands, and have made molds to help me make them. I use faces in making jewelry with bead embellishments, and also in making elaborately detailed dolls.