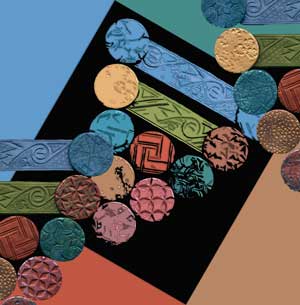 By Design | Ink on Metal
I paint directly onto metal with transparent inks, using multiple layers of additive and subtractive techniques to create designs that I perceive like colorful songs. Each piece is heat treated and sprayed with Krylon fixative for protection.
I photograph each in its entire state to use in making digital collage images, fabric designs and POD (Print On Demand) wearable and decorative items that you can purchase right here! Then I cut the metal up and make components for jewelry making and boxes. Earrings, pendants, necklaces are miniature bits of abstract art made with aluminum and tin. Shown here are 28 in the series, with more to come.
Click on the image to see all items available in that collection.